Concerned About Security Vulnerabilities
for an Upcoming Application Project?
Once you find security vulnerabilities, you need to fix them. However, when you postpone security, it costs you.
Research shows that it's 25 times more effort to fix a design issue that's discovered after deployment. That's pure waste.
However, because security is hard and it's often seen as yet another engineering exercise, it gets postponed. When you postpone, you sign up for a lot more work later. We help you avoid that postponed work by making the right security decisions in the development process itself.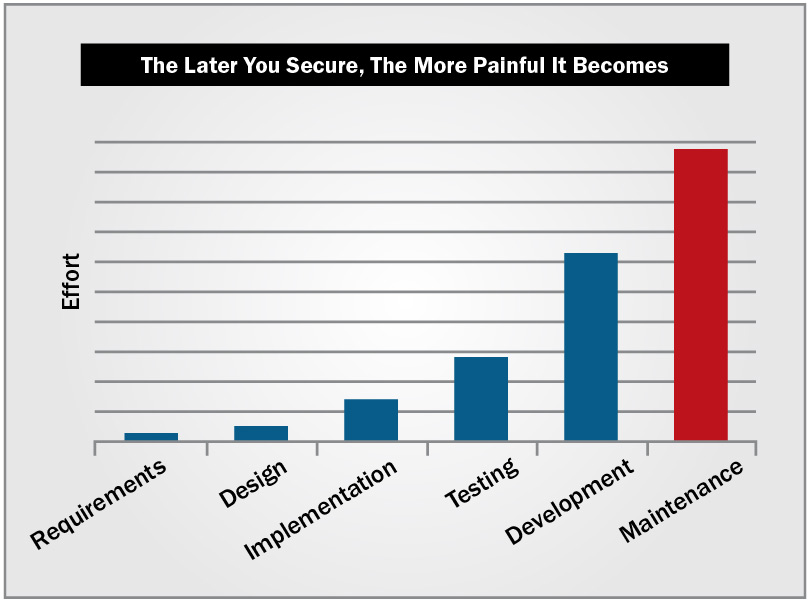 Furthermore, once your developers research a solution to the security challenge they're facing, they're unsure it is even the right way to solve it. Integrating us into the process turns that uncertainty into certainty. You'll know that you're solving your security problems correctly and efficiently.
Most developers aren't experts in security. And that's ok. However, they might not reveal it or they might not realize it. Or maybe they want to just figure it out on their own. None of those are inherently bad things, but they all mean that you'll likely be dealing with security issues without knowing it. Instead, bake us into your development process and we'll transfer knowledge to your developers. We'll ensure the security concerns are properly addressed.
Best of all: Full-time security architects are expensive, but you can optimize your spending by outsourcing to us. You'll spend less than a full-time architect, yet save enormous security headaches later.
This type of engagement also assesses the development of the product to help teams find the technical areas where more security expertise is needed. We can identify security risks and provide guidance in the design and development process to help you build a more secure product. This reduces the hours and financial resources that would be dedicated to address post-deployment scenarios like incident response or large-scale refactoring.
Outsource your security decisions to us. It makes your life easier. It saves effort. It avoids costs later.